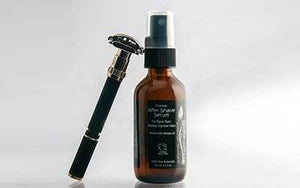 This Product Works, Its just that Simple!
Our fast-acting proprietary blend- 100% Plant derived formulated in optimal proportions.Consisting of wild  crafted botanical's grown in their natural environment  harvested sustainably without the use of any chemicals.
A unisex After Shave Serum with botanical oils that lightly hydrate and balance skin while pacifying post-shave irritation and aggravation.
Reduces appearance of unsightly razor burns, bumps, and redness from shaving, waxing and electrolysis
For men's faces, necks, and women's leg s, underarms, and bikini lines
No sulfates, parabens, artificial colors, preservatives
Key ingredients :
Manuka oil- filled antibacterial properties, scientifically proven in stabilizing bacterial growth
Tea Tree oil- a natural antiseptic based upon it's anti-inflammatory and anti-microbial properties
Lavender oil- highly proven by natural practitioners to in healing damaged skin
Aloe Vera- a traditional remedy for soothing irritated skin, consisting of vitamin A and C highly anti-inflammatory